"It's one thing to come up with a brilliant premise, but it's another thing to know what to do with it, how to realize its potential. As he did with Finn, Jon Clinch digs down to the bones of a classic and creates must-read modern literature."
"In Marley, Clinch revisits Dickens' A Christmas Carol and dares to ask "what precisely are the chains that shackled Marley?" Read through to the last page of this brilliant book, and I promise you that you will have a permanently changed view, not just of Dickens' world, but of the world we live in today."
"In Marley, Jon Clinch again demonstrates his genius, taking Dickens' A Christmas Carol and turning it inside out, revealing its contemporary wonder, making the characters and actions of both Scrooge and Marley entirely modern, without losing a beat of Dickens' Victorian music."
The tight-fisted Ebenezer Scrooge and the ghost of Jacob Marley come vividly to life in an assured reimagining of Charles Dickens' A Christmas Carol by novelist Clinch, who brilliantly captures the wit and irony of Dickens' prose as he unfurls a tale of greed, cruelty, and passion. An adroit, sharply drawn portrayal of Dickens's indelible characters.
Clinch terrifies his readers by flinging Dickens's beloved characters into Marley's fires, winding the plot strings so tight it's almost unbearable. If A Christmas Carol tugs at the heartstrings, Clinch's novel deepens the story to eviscerate the whole heart.
MARLEY: A Novel —
Coming From Atria Books On October 8.​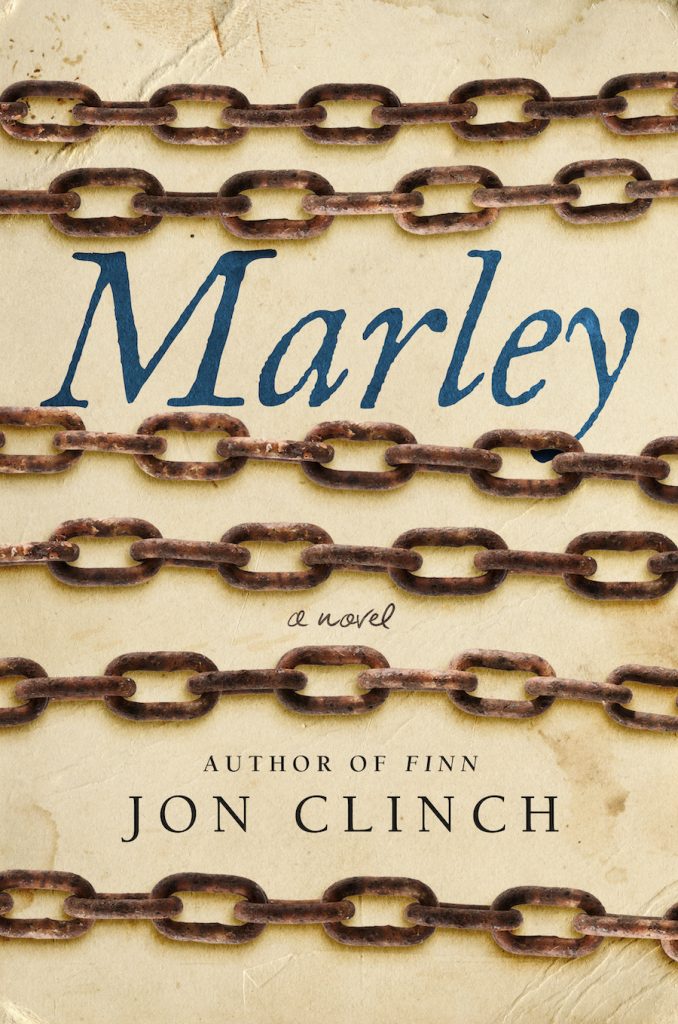 "Marley was dead, to begin with."
So Charles Dickens tells us at the start of A Christmas Carol. But in Jon Clinch's ingenious new novel, Jacob Marley is very much alive: a rapacious and cunning boy who grows up to become a forger, a scoundrel, and, in partnership with his childhood friend Ebenezer Scrooge, owner of a company whose profits derive from the soon-to-be-outlawed slave trade.
In this telling, Jacob Marley and Ebenezer Scrooge are two schemers in early-nineteenth-century London, unpleasant cogs in the engine of Empire. Jon Clinch puts an entirely new spin on the classic tale, making Scrooge and Marley business partners who become rivals, conspiring to destroy each other no matter the cost to anyone around them. In doing so, he makes the story his own, deepening our understanding of Scrooge, Bob Cratchit, and the perilous situation in which Scrooge will find himself when Marley's ghost appears before him.
Jon Clinch takes us on a journey into the history and heart of one of American literature's most brutal and mysterious figures: Huckleberry Finn's father. The result is a deeply original tour de force that springs from Twain's classic novel but takes on a fully realized life of its own. Finn sets a tragic figure loose in a landscape at once familiar and mythic.
The edge of civilization is as close as a farm on the margins of an upstate New York town, where the three Proctor linger like creatures from an older, wilder, and far less forgiving world—until one dies in his sleep and the other two are suspected of his murder.
In The Thief of Auschwitz, Jon Clinch steps for the first time beyond the deeply American roots of his earlier books to explore one of the darkest moments in mankind's history—and to do so with sympathy, vision, and heart.
Part adventure, part romance, and part tall tale, Belzoni Dreams of Egypt is the "fictional autobiography" of Giovanni Battista Belzoni, a real-life 19th-century explorer, circus performer, and shameless self-promoter.